Avo Domaine Cigars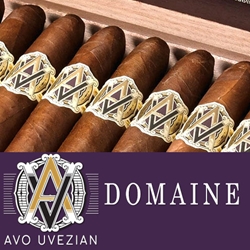 Avo Domaine is another brilliant and flawless hand-rolled premium cigar blend specially crafted for the connoisseur by musical legend Avo Uvezian. Harvested from Avo's private estate plantation in the Dominican Republic, each of these premium cigars are expertly constructed by hand infused with rich blends of choice Dominican fillers and binders wrapped in a dark, oily, double-fermented Ecudorian Sun Grown Connecticut tobacco leaf. Avo Domaine premium cigars are well-balanced, medium-to-full-bodied composed of highly aromatic tobaccos that feature a distinct taste of tea, earth, cedar and vanilla.
"Tell your story in everything you make. But first, make it a good story." — Avo Uvezian
Smokers Discounts offers the perfect way to unwind with Avo Domaine premium cigars. Every cigar purchased on our online cigar store can be delivered right to your front doorstep. We've made it easy and affordable to buy hand-rolled cigars. A variety of sizes and flavors are listed below, each of these styles are in stock and available for a low discount price! Call us for more details!