Kentucky's Best Hemp CBD Oil Products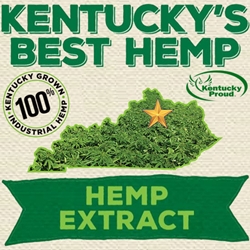 Based in Cynthiana, Kentucky, Kentucky's Best Hemp Inc. is an independently owned company that produces 100% Kentucky Grown Hemp Products. Grown under organic conditions, the high quality hemp extracts offered here are made using a supercritical CO2 fluid extraction process which is the safest, cleanest and the most environmentally friendly way to extract. Each CBD product formulations are verified with both internal and external independent third-party laboratory certificates of analysis. This step is required to ensure the label is in compliance with FDA regulations.
All of Kentucky's Best Hemp products are created with cannabidiol (CBD), a substance found mainly in the extractions from the hemp plant. Hemp and CBD Oils are ideal for those seeking antioxidant-rich natural-medicine remedies infused with anti-inflammatory properties. Using Hemp and CBD Oil products when ingested, can offer a positive medical benefit to the body including muscle-soothing pain relief from inflammation, anxiety, psychosis, seizures and many severe medical conditions.
People every day are discovering the important medical benefits from using cannabis Hemp and CBD Oil products, and we here at Smokers Discounts believe you will too!
Kentucky's Best Hemp products offered at our online store:
Hemp Extract-Infused CBD Gummies
Organic Hemp Extract CBD Oil
Hemp Root Salve with Extract-Infused CBD
All are currently available at a low discount price and can be delivered right to your doorstep!
Call us for more details!