Cannadips CBD Pouches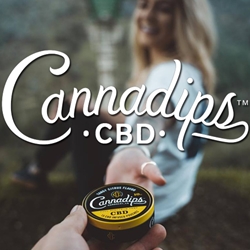 Cannadips CBD pouches, offers a healthy nicotine-free alternative to traditional tobacco products. Each of these hemp CBD extract cannabis pouches contain high quality lab tested ingredients that are all-natural, non-visible, smokeless, and spit-less. Cannadips is a pouch-in-mouth product that is revolutionizing the way consumers experience the rewarding medical benefits of using CBD products.
Cannadips CBD pouches are simple and easy to use when and wherever you need them. Cannadips are mucosal absorbent used directly in the mouth. Each pouch is fast-acting, water soluble, and begins working in approximately 15 minutes. The most effective way, just place a one pouch inside your mouth between your cheek and gum, then as your day goes, simply swallow naturally.
Produced in Humboldt County California, Cannadips comes in three 150mg CBD flavors, American, Citrus, and Mint.
Smokers Discounts can bring non-tobacco Cannadips CBD pouches right to your doorstep. We've made it easy and affordable to buy CBD online. A variety of CBD products are listed below. Each are in stock and available for a low discount price! Call us for more details!