CBD Hemp Cigarettes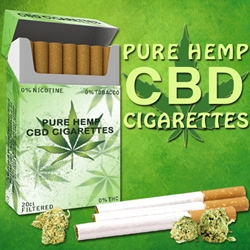 CBD products are fast becoming a major industry across the world. Thanks to the 2018 Farm Bill and new government regulations, it is now legal in the United States to use products containing the CBD elements derived from an industrial hemp plant. Smoking hemp flower CBD cigarettes are considered very enjoyable, and without getting the "high", plus smoking hemp in today's culture has become popular, stylish and fashionable.
Cannabis herbal cigarettes are produced with tobacco-free and nicotine-free ingredients. Pure CBD cigarettes are only made with hemp flowers rich with cannabidiol (CBD). They are legal to manufacture providing the volume of THC is limited to a trace amount of 0.3% or less. This makes smokable hemp CBD cigarettes far less addictive than standard tobacco cigarettes sold at retail stores.
As hemp continues to roll across the US, smokers are switching to pre-rolled hemp cigarettes as a safer and healthier alternative to smoking regular tobacco products. Everyday smokers are being awakened to the medical benefits and wellness factors hemp products have to offer, and with the possibility that smoking nicotine-free CBD hemp cigarettes may provide biological support to help them quit tobacco altogether.
Smokers Discounts can bring your favorite CBD cigarettes right to your doorstep. We've made it easy and affordable to buy Hemp cigarettes online. A variety of brands are listed below. Each of these are in stock and available for a low discount price! Call us for more details!