Rollies CBD Hemp Cigarettes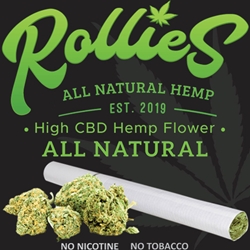 Rollies CBD Cigarettes offers the best way to consume CBD. Rollies are constructed with 100% all-natural high CBD pure hemp flowers, cured properly to preserve the superb quality of the CBD while also maintaining all the natural terpenes. Rollies premium hemp flowers are 3rd party lab tested and US Farm Bill compliant with delta-9 THC level less than 0.3%.
Although there are many new CBD Cigarettes entering the marketplace, most use various forms of cheap "bio-mass" or some other mystery byproduct. You'll never find this substance inside any Rollies products. Their pure hemp is tested to eliminate all pesticides, molds/mildews or heavy metals. Rollies CBD Cigarettes contain 13.5% CBD or 114mg per smoking stick, each are straight pre-rolled with absolutely No Tobacco and No Nicotine!
Pure hemp cigarette smokers who appreciate a high-quality all-natural CBD cigarette, will genuinely enjoy what Rollies has to offer. Here at Smokers Discounts we believe you will too! We've made it easy and affordable to buy CBD cigarettes online. Call us for more details!