Action Pipe Tobacco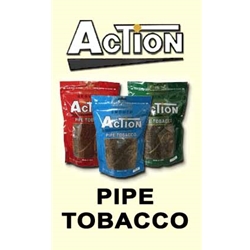 Action Pipe Tobacco consists of the highest quality Burley and Virginia tobacco leaves, carefully selected and blended together to give every smoker that roll-your-own tobacco experience of a slow, satisfying burn that doesn't render a harsh finish. Action is a full-bodied, high-quality loose tobacco that is fulfilling rich. Action Pipe Tobacco is a perfect choice for smokers who like to roll their own or use this quality made rolling tobacco smoked in a pipe or infused in a smoking tube. Take Action with Action Pipe Tobacco today and enjoy!
Action Pipe Tobacco is distributed nationwide by A&T Tobacco Imports, Inc. Action is available at our online tobacco store in unique styles to choose from, Regular, Mint, and Smooth
Every day smokers are trading in their expensive retail brands and choosing rolling tobacco instead. A great way to save money in an over-priced world. Here at Smokers Discounts we believe you should too! We've made it easy and affordable to buy Action Pipe tobacco online. Call us for more details!