Gambler Tube Cut Cigarette Machine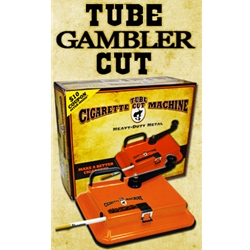 The Gambler Tube Cut Cigarette Machine can produce a pack of cigarettes quick and easy. Simply insert a filtered cigarette tube onto the nozzle, fill the tobacco chamber with your favorite roll your own tobacco, and pull the crank to inject the tobacco into the tube. There's almost no effort involved. A perfect ryo cigarette takes only seconds to make. This machine can make King Size and 100mm cigarettes and works with most King Size and 100mm filtered roll your own cigarette tubes sold. Every Gambler Tube Cut Cigarette Machine is made from heavy-duty metal for long-lasting use and come with a one-time, 1-year warranty and Owner's Manual.
With retail cigarette brands continuing to climb to unaffordable prices, smoking enthusiast are tuning to roll your own tobacco to save money, Smokers Discounts believes you should to. We've made it easy and affordable to buy roll your own tobacco products online. Call us for more details!