Zig-Zag Filtered Tubes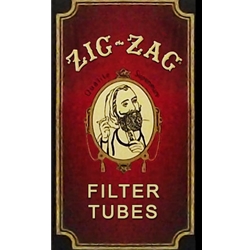 For over 130 years, the Zig-Zag roll your own brand has continued its long track record and huge market presence in the world of the RYO market. Produced in France using natural flax plant fibers, which provide strength, fineness and a slow burn, Zig-Zag roll your own has perfected the craft of making cigarette papers.
The Zig-Zag roll your own line of filter tubes are of outstanding quality with no paper taste of any kind. The tube styles come in either regular or light. When you injected your favorite brand of roll your own tobacco into these unique filtered tubes, prepare for an enhanced smoking experience of great taste and flavors that only Zig-Zag Filtered Tubes can offer!
Making your own cigarettes is now easier than ever when using Zig-Zag roll your own filtered tubes. Start tubing with Zig-Zag filtered tubes and save money over the high cost of retail stores brands. At Smokers Discounts we've made it easy and affordable to buy roll your own tobacco products online. Call us for more details!
DOH!!!!


WE MADE A MISTAKE SOMEWHERE>> SORRY ABOUT THAT PLEASE PRESS THE BACK BUTTON OR CLICK OUR LOGO!!!!