American Spirit Tobacco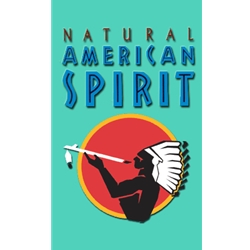 One of our most popular brands, American Spirit pipe tobacco is 100% natural and additive-free. This high quality loose tobacco is ideal for smokers who enjoy rolling their own smokes as well as being an excellent pipe tobacco. We offer American Spirit loose tobacco in Organic, Original and US Grown blends, and some varieties come in your choice of a tin or a pack of 6 resealable pouches.
All American Spirit pipe tobacco has the full-bodied flavor you love, without the nasty chemical aftertaste you get from some brands, and is also perfect as a roll-your-own tobacco. The American Spirit Organic blend is certified organic by Quality Certification Services under United States Department of Agriculture (USDA) National Organic Program standards. The American Spirit US Grown tobacco blend (in the blue packaging) and Original Blend (in the aqua blue packaging) are already legends in their own right.
American Spirit Tobacco has long been the most popular of the natural tobacco brands. Each of the American Spirit loose tobacco blends are made with 100% US grown, 100% natural tobacco. Manufactured by the Santa Fe Natural Tobacco Company, US, American Spirit loose tobacco contains no processed stems, and no additives or preservatives -- just the kind of high-quality flavor and depth you get with only natural and chemical-free ingredients.
Smokers everywhere have grown to love American Spirit, and we here at Smokers Discounts believe you will too! We've made it easy and affordable to buy American Spirit tobacco online. While you're at it, stock up on rolling papers and other roll-your-own accessories, as well as a wide variety of cigars -- all at our discount online prices.
Place your order online today with Smokers Discounts and experience the great flavor of American Spirit tobacco.