Red Buck Pipe Tobacco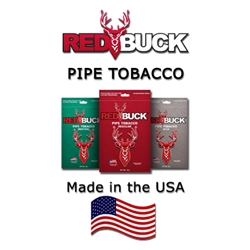 Red Buck Pipe Tobacco is a special unique brand made with the finest tobacco grown in the world, the Kentucky Burley Leaf. Produced by Tanus Tobacco in Kentucky, Red Buck has quickly developed a reputation as the go to tobacco brand across the smoking world. This high quality tobacco is blended together so perfect, the burn stays even throughout every smoke, providing a distinctive smooth taste that possesses a flawless balance of aromatic and flavor.
Pipe smokers who love using an excellent premium tobacco like Red Buck, due its ability to stay lit easily offering an all-day smooth and mellow taste, with pleasant aromatic room notes. A solid value as a pipe smoker's best friend. Try one of our most trusted pipe tobacco brands offered here at a very low online discount price.
Red Buck Pipe Tobacco is distributed nationwide by Xcaliber International located at One Tobacco Road, Pryor, OK USA. Red Buck Pipe Tobacco is available at our online tobacco store in unique styles to choose from. Full Flavor, and Smooth flavors
Switching to Red Buck Pipe Tobacco for your everyday smokes is a great alternative to expensive and over-priced retail brands. Here at Smokers Discounts we've made it easy and affordable to buy pipe tobacco online. Call us for more details!