Supre Sweet Cigars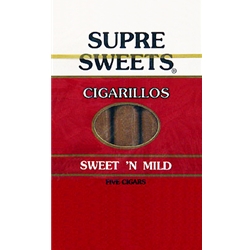 Loved by cigar connoisseurs everywhere, Supre Sweets Cigars are machine-made with a rich combination of Dominican tobaccos inside an Indonesian wrapper. After every draw, Supre Sweets Cigars give the smoker a well-balanced blend of strength and texture, a smooth mild aftertaste with a touch of sweetness, topped off with a refreshing aroma. A sophisticated cigar that's very affordable, a perfect complement to a post-dinner cocktail.
Manufactured by: Altadis USA (Imperial Tobacco)
Available here at: Smokers Discounts
This item has been discontinued.