Richmonde Filtered Cigars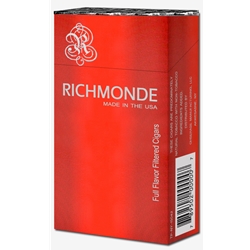 Richmonde Filtered Cigars have a special blend of American grown tobaccos that allows for a sensational aroma and flavor with exceptional smoothness, while still maintaining an incredibly low price. Manufactured in Hard Pack 100's, this means you're getting plenty of product for the price with stronger style of packaging.
Richmonde Filtered Cigars are distributed by Ohserase Manufacturing, LLC Akwesasne, NY located on the Akwesasne Mohawk Indian Reservation
Available in 5 unique styles of flavors, Full Flavor, Smooth, Menthol, Peach and Strawberry.