Smokin Joes Pipe Tobacco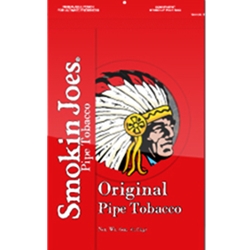 There's no mistaking the smooth, rich taste of a genuine Native American Premium Blend Tobacco.
Smokin Joes Pipe Tobacco is a top selling and very affordable high quality tobacco sold here at our discount online tobacco store. This non-aromatic premium tobacco features a medium cut blend of aged Virginia flue-cured tobaccos paired with double toasted burley and Maryland leaf.
Smokin Joes Pipe Tobacco blend is best smoked straight from a pipe, an excellent mixture that stays lit easily offering an all-day smooth and mellow taste, with pleasant aromatic room notes. Whatever is your preference, Smokin Joes Pipe Tobacco is priced perfectly as a smoker's best friend.
Smokin Joes is the First Native American-Owned and Operated Tobacco Manufacturer, located in Lewiston, NY on the Tuscarora Indian Nation. Each pouch of Smokin Joes Pipe Tobacco are available at our online tobacco store in unique styles to choose from. Currently available: Full Flavor, Light and Menthol.
Smokers everywhere have grown to love Smokin Joes Pipe Tobacco, and we here at Smokers Discounts believe you will too! We've made it easy and affordable to buy premium pipe tobacco online. Call us for more details!