Smokin Joes Pipe Tobacco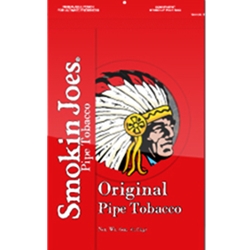 There's no mistaking the smooth, rich taste of a genuine Native American Premium Blend Tobacco.
Smokin Joes Pipe Tobacco is a top selling and very affordable high quality loose tobacco sold here at our discount online tobacco store. This non-aromatic premium tobacco features a medium cut blend of aged Virginia flue-cured loose tobaccos paired with double toasted burley and Maryland leaf.
Smokin Joes Pipe Tobacco can be used in a variety of ways perfectly suitable for any smoker who loves to make their own smokes. This natural tobacco blend can be smoked straight from a pipe, packed inside your favorite brand of rolling paper or infused into the famed Gambler or Hot Rod smoking tubes. Whatever is your smoking preference, Smokin Joes Pipe Tobacco is priced perfectly as a smoker's best friend.
Smokin Joes is the First Native American-Owned and Operated Tobacco Manufacturer, located in Lewiston, NY on the Tuscarora Indian Nation. Each pouch of Smokin Joes Pipe Tobacco are available at our online tobacco store in unique styles to choose from. Currently available: Full Flavor, Light and Menthol.
Smokers everywhere have grown to love Smokin Joes Pipe Tobacco, and we here at Smokers Discounts believe you will too! We've made it easy and affordable to buy roll your own and premium pipe tobacco online. Call us for more details!