Warrior Pipe Tobacco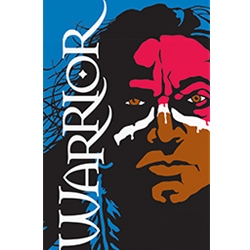 "Welcome to Warrior Territory, where smoking costs far less".
Warrior Pipe Tobacco is the Seneca Manufacturing Company's most unique and well-crafted brand, designed to honor SMC's Native American traditions. Each blend of Warrior Pipe Tobacco offers smokers a full-bodied flavor that once ignited, burns slowly and consistently giving no harshness, allowing for a milder smoking experience. What make this high quality loose tobacco so enjoyable to lite up, Warrior was conceived from a balance of secret blends of rich and pleasant natural tobacco flavors perfected centuries ago from ancient Native Americans.
Warrior is a value-priced premium tobacco that's perfect for smokers who smoke straight from a pipe, rolling paper or pack this loose tobacco easily into the famed Gambler or Hot Rod smoking tubes.
Warrior Pipe Tobacco is distributed nationwide by Seneca Manufacturing Co., Salamanca, NY, Seneca Nation USA. Each pouch of Warrior Pipe Tobacco are available at our online tobacco store in in a variety of flavors: Full Flavor, Light and Menthol.
Warrior Pipe Tobacco is an excellent choice for smokers looking for a relaxing way to enjoy a great quality smoke at an inexpensive price. Here at Smokers Discounts we've made it easy and affordable to buy pipe or rolling tobacco online. Call us for more details!