Open Range Pipe Tobacco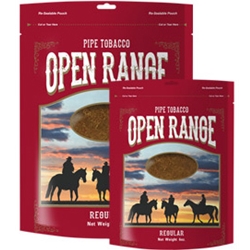 Open Range Pipe Tobacco is a Native American 100% all natural high quality tobacco produced without any additives or preservatives. This distinctive American blend is grown and smoked the way tobacco should be. "Smooth by Nature." Tobacco leaves used in every Open Range Pipe Tobacco pouch is cured carefully and blended together allowing for an easy slow elegant burn with a rich full-bodied flavor and aroma that's true to traditional pipe connoisseurs. Open Range Pipe Tobacco packs nicely into your favorite smoking pipe, stays lit easily offering an all-day smooth and mellow taste, with pleasant aromatic room notes. A solid value as a pipe smoker's best friend.
Open Range Pipe Tobacco is distributed nationwide by Ohserase Manufacturing, LLC Akwesasne, NY located on the Akwesasne Mohawk Indian Reservation. Each pouch of Open Range Pipe Tobacco are available at our online tobacco store in 3 unique styles to choose from. Full Flavor, Light, and Menthol.
Choosing this premium tobacco for your everyday smokes is a great alternative to expensive and over-priced retail brands. Here at Smokers Discounts we've made it easy and affordable to buy pipe tobacco online. Call us for more details!