Smokers Palace Pipe Tobacco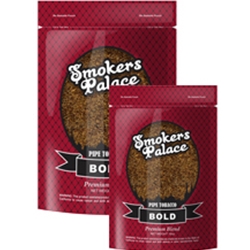 Smooth by Nature is how this premium tobacco has been describe. Smokers Palace Pipe Tobacco is a 100% all-natural high quality tobacco produced on the Akwesasne Mohawk Indian Reservation by Ohserase Manufacturing. Each blend of Smokers Palace Pipe Tobacco has a full-bodied flavor that burns slowly and consistently giving no harshness, allowing for a milder experience. Guaranteed to satisfy your needs, try Smokers Palace Pipe Tobacco today.
Signal Pipe Tobacco is distributed nationwide by Ohserase Manufacturing, LLC Akwesasne, NY located on the Akwesasne Mohawk Indian Reservation. Each pouch of Signal Pipe Tobacco are available at our online tobacco store in 3 unique styles to choose from. Regular, Smooth, and Mint.
Every day smokers are trading in their expensive retail brands and choosing value tobacco brands instead. A great way to save money in an over-priced world. Here at Smokers Discounts we believe you should too! We've made it easy and affordable to buy pipe tobacco online. Call us for more details!