H. Upmann by AJ Fernandez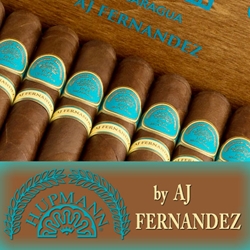 Hand-Made at his factory in Estelí, Nicaragua, Cuban cigar maker AJ Fernandez developed a new line for the nearly 175-year-old brand of H. Upmann. This new hand-rolled premium cigar style has attracted a new generation of smokers with its robust and distinctive flavors. Produced individually with Criollo 98 and Pilito Cubano fillers, a Corojo 99 binder and bound together inside an Ecuador Sumatra wrapper, these premium cigars by AJ Fernandez are medium to full-bodied offering a sweet and balanced taste with notes of almond.
H. Upmann by AJ Fernandez are hand-rolled premium cigars that make an excellent choice for any cigar connoisseur. Smokers Discounts has made it easy and affordable to buy premium cigars online. A variety of sizes and flavors are listed below in our online cigar store. Each of these styles are in stock and available today at a low discount price. Call us for more details!