PIPE TOBACCO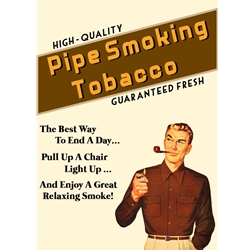 It is a well-known fact that retail smoking prices have risen to unaffordable rates all across the country. In response, smokers have gotten creative with the ways they enjoy their tobacco products! And we at Smokers Discounts are here to help, with the perfect pipe tobacco, supplies and accessories.
Due to high retail smoking prices, we've seen the popularity and demand for pipe tobacco, products increase. Here at Smokers Discounts, we offer some of the lowest prices on a wide selection of the world's finest discount pipe tobacco brands online. Some of the popular names we carry include Bacco and OHM
And within each brand of pipe tobacco we offer, there are plenty of varieties to choose from. You'll find premium regular tobaccos as well as popular flavors and varieties such as Bold, Full Flavor, Aromatic, Mild/Mellow, and many more. Just click on one of the brands listed below to see the flavors and varieties of discount tobacco available from that brand.
Browse our selection of fine pipe tobacco online here on our site, and you'll find a huge assortment of different container shapes and sizes as well as flavors. Every brand of our premium tobacco is packaged in resealable pouches or vacuum sealed tins which lock in the fresh flavor of our pipe tobacco, guaranteeing that the quality and freshness can last for a long duration.
Specials are available for sale each week online, so be sure to check back with us frequently to see what's new or on sale. Meanwhile, check our online pipe tobacco shop for the brands and styles you like, and join the pipe tobacco revolution today!