Bolivar Cigars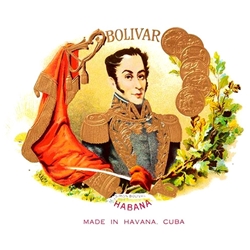 Originally introduced 1901 in Havana, Cuba, this premium cigar brand came on the market under its namesake Simon Bolivar, South America's iconic freedom fighter. Bolivar Cigars offer a powerful smoke, due to a very strong and complex blend of full-bodied tobaccos that compose the chemistry of these classic smoking gems.
The Bolivar brand is produced in the Dominican Republic, and although the tobaccos are grown and harvest in this region, the cigars produce a taste and aroma that perfectly matches their original Cuban ancestors. Today, Bolivar cigars have become one of the most sought-after brands among experienced smokers. The premium cigars offered here come in various sizes and shapes listed below such as Churchill, Toro and Robusto.
Bolivar is a premium line cigar offered at an everyday smoker's price, affordable and available to cigar connoisseurs everywhere! Stock up your humidors with these great masterpieces.
Smokers Discounts can bring your favorite cigar brand right to your front doorstep. We've made it easy and affordable to buy premium cigars online. Each of these styles are in stock and available for a low discount price! Call us for more details!