AVO Classic Cigars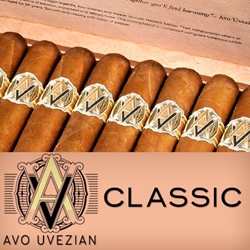 Avo Classic hand-rolled premium cigars are the collaboration of two cigar legends, Avo Uvezian and Master Blender Hendrik Kelner. Avo Classic premium cigars are individually constructed by highly skilled cigar rollers in the Dominican Republic. Avo Classics are crafted from an impressive blend of Dominican binders and long-fillers and wrapped up perfectly inside Connecticut seed wrapper, Sun grown in Ecuador. The strength in the draw from an Avo Classic premium cigar is mild to medium with a sweet, creamy background balanced by an earthiness and topped off to perfection with bit of kola nut. Simple, delicious flavors make Avo Classic premium cigars an excellent choice for all cigar lovers who enjoy a mellow or medium bodied smoke.
"Find those who share your passions. Together you'll find harmony." — Avo Uvezian
The Avo Classic line are hand-rolled premium cigars that make an excellent choice for any cigar connoisseur. Smokers Discounts has made it easy and affordable to buy premium cigars online. A variety of sizes and flavors are listed below at our discount online cigar store. Each of these styles are in stock and available. Call us for more details!