Dunhill Pipe Tobacco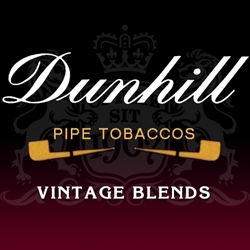 Since 1905, Dunhill Pipe Tobacco has established itself as one of the most distinguish premium pipe tobacco brands on the market today. Dunhill is famous for creating high-quality English style pipe tobacco mixtures that deliver rich and zesty flavors with unrivaled bouquets and sweet aromatic room notes. Smoking connoisseurs have enjoyed this perfect combination of ribbon-cut premium pipe tobacco for decades. Easy to pack in your favorite pipe, each bowl burns smooth and mellow, long and consistent.
Smokers Discounts believes you'll have a relaxing and satisfying smoking experience with the varieties of flavored choices listed below at our online pipe tobacco store. Each of these styles are in stock today at a low discount price! Call us for more details!
Available in 5 lbs. / 80 oz. Bulk Pipe Tobacco size bags! Call us for more details!