Petri (Cello 2's) Cigars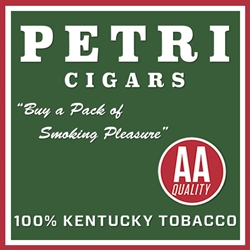 Petri Cello 2's are European style cigars created with a selected blend of 100% dark fired American grown tobaccos from Kentucky and Tennessee. Carefully fermented, each of these cigarillo style machine-made cigars are dry cured offering rich and aromatic smoky flavors of wood and pepper both inside and out.
Smokers Discounts has made it easy and affordable to buy cigars online with packages delivered right to your front doorstep! We offer several sizes and flavors listed below in our online cigar store. Each of these styles are in stock and available for a low discount price! Call us for more details!