Havana Honeys Cigars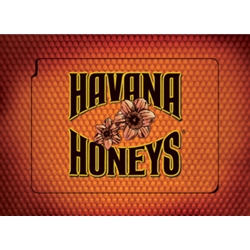 Havana Honeys premium cigars offers the exotic tastes of Havana without having to leave home. Each of these smoking gems are produced exclusively in the Dominican Republic crafted by experts who understand the complex techniques necessary in creating hand-rolled premium cigars. Havana Honeys are made with a unique blend of Dominican and Italian long filler tobaccos and sealed up to perfection inside a silky Indonesian leaf wrapper.
Smokers Discounts offers a relaxing everyday experience with Havana Honeys premium cigars. These rich and flavorful cigars can be delivered right to your front doorstep. We've made it easy and affordable to buy handmade cigars here at our online store. A variety of sizes and flavors are listed below, each of these styles are in stock and available for a low discount price! Call us for more details!