The Griffin's Cigars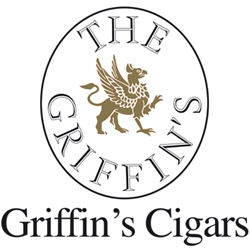 If you're in the market for a luxury cigar, look no further than the Griffin's hand-rolled premium cigars. Griffin's provide a surprisingly smooth and enjoyable smoking experience offering an abundance of great flavors all rolled up into a unique cigar package. Handmade at the world renowned Davidoff cigar factory in the Dominican Republic, each of these smoking gems are created with an aged blend of Dominican Santo Domingo long-filler and binder leaves packed perfectly inside an oily and sleek caramel-brown Connecticut shade wrapper.
Griffin's premium cigars are flawlessly constructed to provide the perfect way to unwind and relax. At Smokers Discounts every cigar purchased on our online cigar store can be delivered right to your front doorstep. We've made it easy and affordable to buy hand-rolled cigars. A variety of sizes and flavors are listed below, each of these styles are in stock and available for a low discount price! Call us for more details!