OHM Filtered Cigars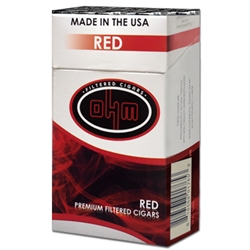 OHM is one of the leading tobacco brands when it comes to variety, taste and quality. OHM Filtered Cigars are made from perfectly ripened American-grown Virginia and Burley tobaccos, air cured and infused with an essences that provides a fine draw and an even burn. The tobacco blend inside of each of these little cigars is produced down to its simplest form, just water and tobacco.
Each of the styles listed below produce a smooth, mild, distinctive taste and flavor, leaving behind an ambient scent that's never overbearing. Choose from, Red (Full Flavor), Menthol, Blue (Light), Vanilla, and Cherry. OHM Tobacco brands are manufactured and distributed nationwide by Native American owned, Inter-Continental Trading Inc., in Mount Prospect, IL USA.
OHM Filtered Cigars are the perfect option, if you're looking for a way to save money over expensive retail brands. Smokers Discounts offers you a great choice to buy filtered cigars online, it's easy and affordable! Call us for more details!