752 Filtered Cigars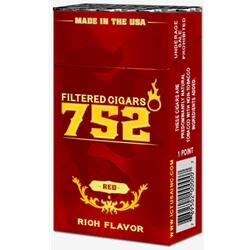 752 Filtered Cigars provide the perfect alternative to high-priced retail brands. Designed to provide every smoker with an ultimate sensation of what true regular tobacco should be like, 752 cigars are ideal for retailers looking for a bold, yet economical product that appeals to price-conscious customers. Each of the cigars listed below are made from perfectly ripened American-grown Virginia and Burley tobaccos packed inside a thin tobacco leaf paper that allows the burn to be natural and soothing instead of harsh burning chemicals.
Available in a variety of styles and flavors, Gold (Smooth), Full Flavor, and Menthol. 752 Filtered Cigars are part of the OHM Tobacco brand family, manufactured and distributed nationwide by Native American owned, Inter-Continental Trading Inc., in Mount Prospect, IL USA.
752 Filtered Cigars are the perfect option, if you're looking for a way to save money over expensive retail brands. Smokers Discounts offers you a great choice to buy filtered cigars online, it's easy and affordable! Call us for more details!