CAO World Cigar Sampler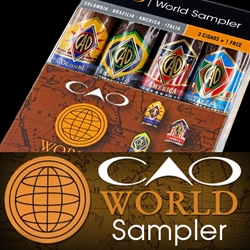 Offering you a taste of the finest high-quality hand-rolled cigars from around the world, the CAO World Cigar Sampler is presented here in a convenient special edition 4 pack set. Each of these cigars are handmade, created with all natural full-bodied tobaccos featuring unique and exotic flavors from four different countries, America, Brazil, Colombia and Italia. The CAO World Cigar Sampler offers a great and inexpensive way to experience each of CAO's rich and complex blends from their exclusive premium cigar library.

This collection makes a great gift for a friend or loved one, pick one up today. Call us here at Smokers Discounts for more details!