Kentucky Select Pipe Tobacco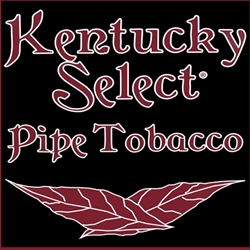 Kentucky Select Pipe Tobacco is produced with a special blend of high quality US flue-cured Virginia and Burley tobaccos. Held in high regard in the pipe tobacco market as a go to smoke, Kentucky Select is a great alternative and a real bargain compared to expensive and over-priced retail brands.
Try the many ways to enjoy Kentucky Select Pipe Tobacco, such as packing your favorite smoking tube or smoked straight in a pipe. No matter which way you chose, you will not be disappointed. Offered in user friendly resealable bags, Kentucky Select is ready to deliver a satisfying smoking experience each and every time. Here at Smokers Discounts we've made it easy and affordable to buy pipe tobacco online. Call us for more details!