Gold Rush Filtered Cigars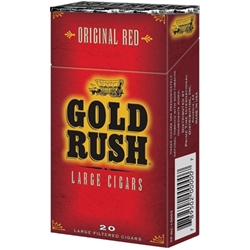 Produced with a selected blend of premium US Grown tobaccos, Gold Rush Filtered Cigars offer a genuine classic flavored smoke that's smooth and mild. Gold Rush comes in 3 distinct flavors, Original Red (Full Flavor), Green (Menthol) and Blue (Light).
The Gold Rush filtered cigar line is offered here at an everyday smoker's price, affordable and available to be delivered right to your front doorstep Try the one of the varieties of styles and flavors listed below at our online cigar store. Each of these little cigars are in stock today at a low discount price! Call us for more details!