Talon Filtered Cigars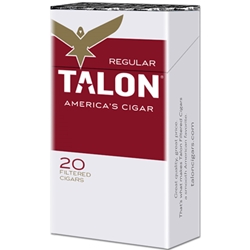 Manufactured by the Scandinavian Tobacco Group, Talon Filtered Cigars are machine-made in the same size as your favorite retail smoking brand, but offered here for only a fraction of the price. Talon Filtered Cigars light fast and give an easy burn that produce a smooth smoke with a pleasant aroma. Talon Filtered Cigars comes in various distinct flavors, Regular (Full Flavor), Menthol, Silver (Light) and Original Sweet.
The Talon filtered cigar line is presented here at an everyday smoker's price, affordable and available to be delivered right to your front doorstep Try the one of the varieties of flavors listed below at our online cigar store. Each of these little cigars are in stock today at a low discount price! Call us for more details!