RAW Rolling Papers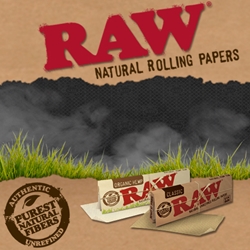 RAW Rolling Papers, are produced from all-natural organically grown pure hemp that's always chlorine free and processed in an eco-friendly environment. RAW uses a hybrid blend of unbleached (not chlorine whitened) fibers in the creation process of their rolling papers. This method generates a natural light-brown color to each paper, which are then manufactured very thin, effectively making them semi-translucent in appearance. Each rolling paper features RAW's signature crisscross watermark pattern woven into the fabric to help prevent runs and keep your smokes burning at an even level each and every time.
RAW Rolling Papers are sold worldwide, and can be the perfect complement to our other smoking brands Pipe Tobacco.
Smoking enthusiasts who love using 100% natural organic smoking products, will enjoy RAW Rolling Papers. At Smokers Discounts we believe you will too! We've made it affordable and easy to buy organic products online. A variety of sizes are listed below at our discount online store.
RAW available products: RAW Rolling Papers and RAW Rolling Cones.
Call us for more details!