Frontier Cheroots Cigars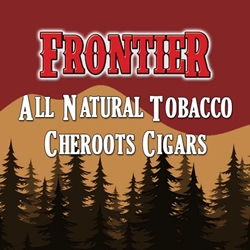 Produced with perfectly blended high quality all-natural premium tobacco fillers, Frontier Cheroot cigars are machine-made, and wrapped perfectly inside an aged Pennsylvania broadleaf with a tapered body and unfinished head. With this combination, the draw offers an all-natural taste that is smooth, mellow, and very flavorful.
Frontier Cheroots Cigars are currently offered in four unique flavors, Honey, Honey-Berry, Russian Cream and Sweet Aromatic, with additional cigar flavors slated for launch at a later date. Frontier Cheroots Cigars are packaged five cigars to a foil pouch and 40 total in each box.
Cigar enthusiasts who love the feel of a hand-rolled cigar will be encourage to know the goal of Frontier is to bring a superior cigar product to the market at an affordable price. At Smokers Discounts we are excited to know this as well and believe you will fall in love this brand! We've made it easy and affordable to buy cigars online. Call us for more details!