Good Times 4K's Cigarillos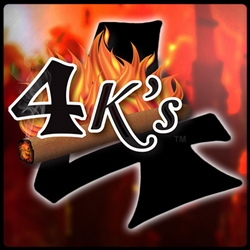 Good Times 4K's Cigarillos are high-quality machine-made cigars manufactured in the Dominican Republic and distributed nationwide by Good Times USA in Tampa, FL. 4K's Cigarillos are created with a unique blend of mild tobaccos infused with various exotic fruits and natural sweet flavors, highlighted with an all-natural tobacco leaf wrapper. These cigarillos produce an extra slow burn providing a very pleasant aromatic aroma with every smoke.
Good Times packages the 4K's Cigarillos in their own 4 count zip lock resealable foil pouch to ensure your cigars stay fresh and ready to use.
Smokers Discounts has made it easy and affordable to buy cigars online. With Good Times 4K's Cigarillos, you can enjoy the ultimate smoking experience when these machine-made cigars are shipped right to your doorstep! A variety of sizes and flavors are listed below, each of these styles are in stock and available for a low discount price! Call us for more details!