Prime Time Filtered Cigars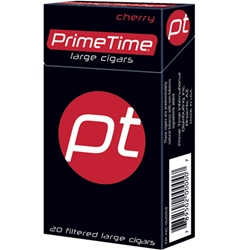 Prime Time Filtered Cigars have become popular within the smoking crowds due to their flavored only selections. Choosing Prime Time Filtered Cigars is a great alternative to high-priced over the counter retail brands. Each of the filtered little cigars listed below are made from perfectly aged American-grown high-quality tobacco fillers, fastened with a sweet filter tip on the end and packed inside a micro thin tobacco leaf paper that allows the burn to be natural and smooth instead of the harsh burning chemicals you taste with other overpriced smoking brands.
Prime Time Filtered Cigars are available in a variety of flavors, and manufactured and distributed nationwide by JTI USA.
Prime Time Filtered Cigars are the perfect option, if you're looking for ways to save money over expensive retail brands. Smokers Discounts offers you a great choice to buy filtered cigars online, it's easy and affordable! Call us for more details!