Smokers Choice Filtered Cigars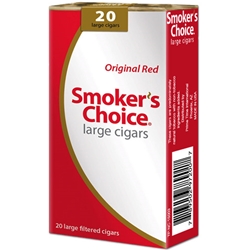 Smokers Choice Cigars are 100% American made, created with unique high quality tobaccos harvested and produced in Stantonsburg, North Carolina by the North Carolina Tobacco Manufacturing, LLC. Each filtered cigar in the Smokers Choice line consists of blended tobaccos packed perfectly inside a micro thin natural tobacco leaf paper providing a distinctive taste with an easy draw and smooth finish.
Smokers Choice Cigars are the perfect option, if you're looking for a way to save money over expensive retail brands. Smokers Discounts offers you a great choice to buy filtered cigars online, it's easy and affordable! Call us for more details!