Dill's Pipe Cleaners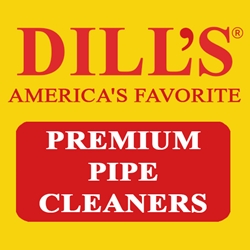 Daily cleaning is the best way to extend the life of your smoking pipe. Using Dill's Pipe Cleaners will help scrub and loosen the solid residue which accumulates in the stem and shank of your pipe. Dill's Pipe Cleaners help maintain a fresh smell and clean taste and allow you to obtain maximum enjoyment from your pipe and tobacco.
Dill's Pipe Cleaners are offered here in the Bristle and Regular versions. Both styles are 6 Inches in length and made from all natural cotton with no synthetic materials. As a result they are extra absorbent and very sturdy.
When you require the perfect cleaning tool to help extend the life of your smoking pipe, Dill's are the only pipe cleaners you'll ever need to use to get the job done right.
Dill's Pipe Cleaners make an excellent choice for any pipe smoking connoisseur. Smokers Discounts has made it easy and affordable to buy pipe tobacco and smoking accessories online. A variety of designs are listed below at our discount online tobacco store. Each brand is in stock and available today. Call us for more details!