Global Classic Filter Tubes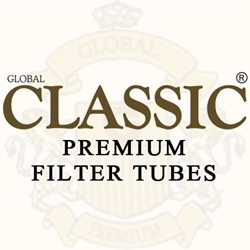 Global Classic filter tubes are designed ideally for the devout enthusiast who enjoy saving money by making their own smokes at home. Manufactured in Dallas Texas by Global Tobacco, LLC, each Global Classic tube is constructed from natural high-quality paper elements and fastened with a premium brown filter tip on the end. Global Classic filter tubes are designed to fit perfectly into any standard tobacco injector, and packaged in 200 count sealed cartons. Offered here in various flavors, Red (Full Flavor), Blue (Light), and Green (Menthol) and available in the King or 100mm size.
Smokers Discounts has made it easy and affordable to buy filter tubes and other smoking accessories online. A variety of brands are listed at our discount online tobacco store. Each brand is in stock and available today. Call us for more details!