Good Times Flat Wrap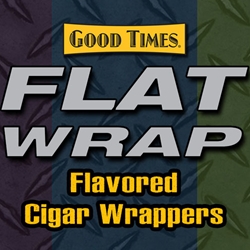 Good Times Flat Wraps are produced from hand-selected all-natural tobacco leaves grown and harvested exclusively in the Dominican Republic. The tobaccos for each Flat Wrap are bonded together and infused with unique mixtures of sweet tasting flavorings which give them a very smooth, mellow and aromatic smoke.
Good Times Flat Wraps are machine-made. They are natural light brown in color, and offered in a variety of flavors listed below. Good Times Flat Wraps are packaged in a 25 count box of 2 cigar wrappers per pack, packaged inside individual foil pouches, keeping your wraps fresh all day and ready to use.
Smokers Discounts can bring these Flat Wraps by Good Times right to your doorstep. We've made it easy and affordable to buy quality smoking tobacco products online for a low discount price! Call us for more details!