Wild Hemp Blunt Wraps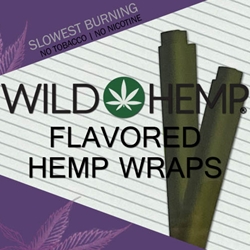 Wild Hemp Blunt Wraps are created from 100% natural, American-grown hemp. Each of these wraps by Wild Hemp contain no tobacco, nicotine, THC or CBD elements. They are machine-made with a signature waved edge for easy rolling, sealing, and smoking. Wild Hemp wraps are natural light brown in color, and offer a smooth and slow-burning smoking experience, produced from the variety of great-tasting flavor options listed below. Wild Hemp are packaged 4 blunt wraps per individual resealable pouch, packed inside a 20 count box.
Smokers Discounts can bring Wild Hemp Blunt right to your doorstep. We've made it easy and affordable to buy quality hemp products online for a low discount price! Call us for more details!