Zig-Zag 'Rillo Size Cigar Wraps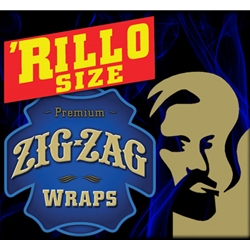 Created from the same superior homogenized tobacco used for their famed Zig-Zag Original Wraps, Zig-Zag designed their 'Rillo size to match the general size dimensions of a typical cigarillo cigar. This is where the name "Rillo" came to be known. These wraps are cut at a slightly smaller size to match a consumer's cigarillo preference. The wraps are designed to be sturdy and allow for a tight pack of fillers without falling apart. Zig-Zag 'Rillo Size Wraps offer a very smooth and flavorful profile, delivering even burns with a consistent smoke.
Zig-Zag 'Rillo Size Cigar Wraps are conveniently packaged in a 15 count box of 2 cigars cones each, packaged inside individual foil style resealable pouches.
Where to buy Zig-Zag 'Rillo Size Cigar Wraps? We offer them here at a low everyday smoker's price, affordable and available to be delivered right to your front doorstep. Try one of the varieties of Zig-Zag flavors listed below at our online cigar store. Each of these styles are in stock today at a low discount price! Call us for more details!