Captain Black Filtered Cigars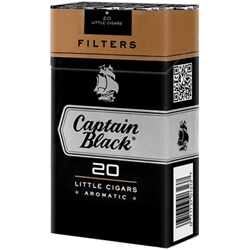 Captain Black filtered cigars are machine-made, produced with a signature blend of Captain Black's high-quality premium grown tobaccos grown and harvested the US, Philippines and Indonesia. This tobacco blend is produced exclusively for these little filtered cigars and packed firmly inside a micro thin natural tobacco leaf paper, fastened with a filtered tip on the end.
Captain Black filtered cigars are offered here in a variety of distinct flavors and available at an everyday smoker's price, affordable and ready to be delivered right to your front doorstep. Try the one of the various choices listed below at our online cigar store. Each of these little cigars are sold by the carton and are in stock today at a low discount price! Call us for more details!