Marsh Wheeling Cigars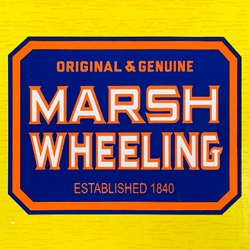 Marsh Wheeling cigars are back on the market and available again! Originally created Mifflin M. Marsh in 1840, these machine-made cigars have a long history of famous cigar connoisseurs who have enjoyed this legendary brand. It is said that President Lincoln, P.T. Barnum, Sam Houston, Mark Twain, and even John Wayne were all known to occasionally smoke a Marsh's Stogie. Probably the biggest fan of Marsh Wheeling cigars was President Ulysses S. Grant, who was said to smoke up to 20 of them a day.
Today, the Topper Cigar Company out of Meriden Connecticut, has taken up the mantle to re-introduce Marsh Wheeling cigars back into the world. Topper Cigars have obtained all of the original tobacco blends and are currently producing this iconic brand in the Dominican Republic. The Topper Cigar Company has stated, they will maintain the classic, yellow and blue look and design of each Marsh Wheeling cigar box, which made the brand a staple of the cigar industry.
To keep with tradition, Topper Cigar Company is using the same vintage cigar machines first used 70 years ago to assemble each Marsh Wheeling Cigar. The cigars themselves are created using perfectly aged Dominican, and fired-cured Kentucky tobaccos, highlighted with a rustic and tasteful Connecticut shade wrapper. Each cigar offers a medium bodied strength profile that's smooth and enjoyable.
Kick back, relax and unwind with a great cigar from Smokers Discounts, offered here at an everyday smoker's price, affordable and available to be delivered right to your front doorstep! We've made it easy to buy premium machine-made cigars online. A variety of sizes and flavors are listed below, each of these styles are in stock for a low discount price! Call us for more details!