Hav-A-Tampa Jewels Cigars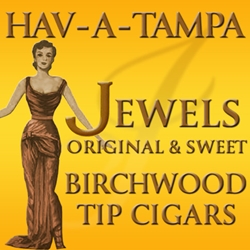 Hav-A-Tampa Jewels cigars have been a best seller in the cigar world ever since the brand was introduced in 1931. Each of these Jewel cigars are machine-made and packed of high-quality Italian and Columbian fillers, secured in place with homogenized binders and rolled in high-quality natural wrappers.
What makes Hav-A-Tampa Jewels so unique, are Birchwood filtered tips fastened at the end of each cigar. The tips provides a woody note essence to the flavor while the cigar itself burns with a distinctive sweet mellow smoke giving out a pleasant aroma on every draw.
Hav-A-Tampa Jewels cigars make an excellent choice for any cigar connoisseur who loves the feel of a hand-rolled cigar but at the discount price of a machine-made one. A great smoke for any occasion. Smokers Discounts has made it easy and affordable to buy machine-made cigars online. Call us for more details!