Nectar Filtered Cigars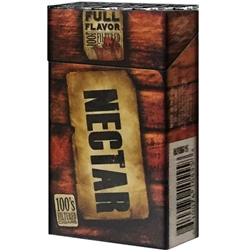 Nectar Filtered Cigars are manufactured from premium grade tobacco and infused with rich fruity essences that provides a fine draw and an even burn. Each taste has been carefully created to give a truly authentic experience, ensuring that every inhalation delivers an appealing blend of tobacco and rich, fruity fragrance. Nectar's have become a very popular choice with a growing number of people now preferring a smaller cigar.
Nectar's come in multiple styles to choose from. Full Flavor, Lights, Ultra Lights, Menthol, Menthol Lights, Grape, Peach, Vanilla, Cherry and Robust.

Nectar Filtered Cigars are distributed nationwide by Seneca Manufacturing Co., Salamanca, NY, Seneca Nation. USA