Acid Remi Blue Cigars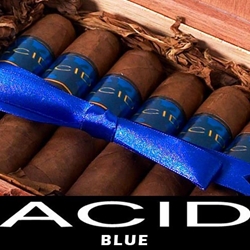 Infused with over one hundred and fifty different oils, herbs, and botanical flavors, Acid Remi Blue are hand-rolled premium cigars produced individually by expert Torcedos at the Drew Estate Factory in Nicaragua. Each Acid Remi Blue cigar is expertly cured and bundled up in a fresh US Connecticut Broadleaf with the exception of the Kuba Kuba brands that are wrapped in a Sumatra tobacco leaf and the Remi Blue Deep Dish that uses the Cameroon. If you love an excellent hand-crafted premium cigar, pick up an Acid Remi Blue today and find out how great they really are.
Guaranteed to provide an enjoyable smoking experience that's sure to last, Smokers Discounts offers Acid premium cigars in numerous varieties of sizes and flavors. Check out all the styles available here for a discount price! Call us for more details!