Ashton Heritage Puro Sol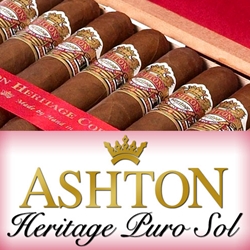 Ashton Heritage Puro Sol hand-rolled premium cigars are comprised entirely of 100% Sun Grown tobaccos. "Puro Sol" in Spanish means "pure sun". All of the tobaccos used to create these premium cigars are sun grown, the binders and fillers including the Ecuador Habano wrappers. Once you light up an Ashton Heritage Puro Sol, traces of spicy caramel and almonds will hit your palates and you will experience an exceptional smoke that is both flavorful and well balanced to the draw and burn. Stock up your humidors with these masterpiece premium hand-rolled cigars. Every Ashton Heritage Puro Sol offered here at our online cigar store can make a great gift for a family, friend or loved one.
Ashton Heritage Puro Sol are hand rolled premium cigars that make an excellent choice for any cigar connoisseur. Smokers Discounts has made it easy and affordable to buy premium cigars online. A variety of sizes and flavors are listed below. Each of these styles are in stock and available at a low discount price. Call us for more details!