Romeo y Julieta 1875 Cigars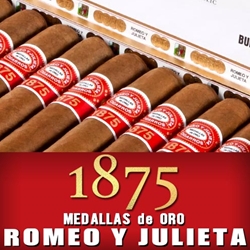 For over 130 years the Romeo y Julieta 1875 series have become the most famous and iconic of the company's premium cigar lines. Being named after the year the cigar was first produced in Havana in 1875, today the Dominican version is still handcrafted by skilled artisans in the old Cuban style ways that have elevated these cigars into a modern day classic. Produced with a rich flavored Indonesian Shade Grown TBN tobacco leaf, each of these Romeo y Julieta's cigars are packed full of Dominican binders, combined with a blend of aged Dominican long fillers that offer a perfect balance that's not overwhelming, just very satisfying.
The Romeo y Julieta 1875 are hand-rolled premium cigars that make an excellent choice for any cigar connoisseur who desires a high-quality consistency from their everyday go-to brand. Smokers Discounts has made it easy and affordable to buy cigars online. A variety of sizes and flavors are listed below at our discount cigar store. Each of these styles are in stock and available today. Call us for more details!