Romeo y Julieta Cigars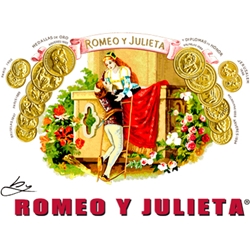 World renowned for their rich taste and high quality, the Romeo y Julieta line of premium cigars have remained the go to brand for every cigar enthusiast looking for that perfect hand-rolled gem that best suits his or her smoking needs. Founded in Havana by Alvarez y Garcia in 1875 and named after Shakespeare's lead characters in his tragic love story, "Romeo and Juliet, the brand truly became famous in 1903 after being acquired by master salesman and promoter, Jose "Pepin" Rodriguez Fernandez.
Today, the Romeo y Julieta brand is produced in La Romana, Dominican Republic under the direction of Altadis USA. Each cigar line extension is handcrafted in the old Cuban heritage style by highly skilled artisans who have over the last century, created a legacy of extraordinary quality, construction, and flavor that is second to none.
Smokers Discounts believes you'll really enjoy Romeo y Julieta premium cigars. Each are medium bodied in strength composed of well balanced, aromatic blends of fine selected aged tobaccos. They are a unique Cuban-style smoke that make an excellent choice for any cigar connoisseur. Every product listed below at our online cigar store can be delivered right to your doorstep. Each of these styles are in stock and available for a low discount price! Call us for more details!