Romeo y Julieta Reserve Cigars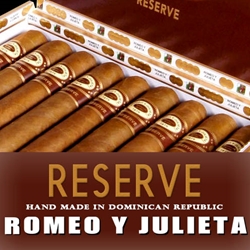 Considered one of the more robust cigars to come from the library of the Romeo y Julieta brand. These full-bodied premium cigars are packed full of rich and hearty flavors so pristine, they became an instant handmade classic. Each cigar of the Romeo y Julieta Reserve are created individually by highly skilled artisans in Honduras at La Flor de Copán factory. Only hand-selected Honduran and Nicaraguan long filler tobaccos, with a natural Nicaraguan wrapper are used to complete the Reserve. Once finished, a perfect balanced smoke is produced that will captivate your senses, but not overwhelming, just very satisfying in both aroma and in taste.
Another unique Cuban-style cigar brand that makes an excellent choice for any connoisseur who loves a great Old School smoke. We at Smokers Discounts believes you'll really enjoy Romeo y Julieta premium cigars, because each are composed of well balanced, aromatic blends of fine selected aged tobaccos. Every product listed below at our online cigar store can be delivered right to your doorstep. Each of these styles are in stock and available for a low discount price! Call us for more details!